Description
4 sights in 1
Shield have taken the incredible performance and strength of their military proven red dot sight the CQB/CQS and made it even better. The fantastic performance, weight, and durability have been given an extra dimension by the added convenience of 4 switchable reticules and brightness adjustment settings via the touch of a button. Now not only do their sights automatically change brightness to suit your environment but we added the simplicity of a manual mode for you to set your sight to perform in the exact conditions you require. As with their flagship product the CQS, the SIS has an automatic light meter that will automatically dial up or down the brightness of the reticule to adjust to your environment so there will never be flaring. But sometimes your target will be in a bright environment and you'll be in the dark. This is where their new 12 level manual brightness adjustment comes into its own. Allowing you complete control over your reticule illumination to suit your every need. Command and Control – 4 sights in one all with absolute precision. With a press of a button, you can now select between 4 reticule options. You can cycle through the different interfaces to choose the preferred reticule depending on your preference, offering the user complete control over a mission-specific setup. Shield's unique technology does not rely on moving parts within the sight meaning that each time you switch the reticule you know that your dot is still on target. The SIS was a next product step in their combat-proven heritage and has been designed by listening to customers and gaining real-world application feedback from Special Forces, Law Enforcement and Military users across the world. The CQB was the smallest, toughest, and lightest in its class. Coming in at 2.29 ounces Incredibly Shield have managed to up the technology within and lower the weight even further with the SIS coming in at 2.16 ounces!
Programmable Reticule Options within the sight are.
Version 2 has an increased viewing field and a new streamlined tough tactical design and keeps all the advanced functionality whilst being even lighter than the previous version.
1MOA
1MOA & Ring
8MOA & Ring
8MOA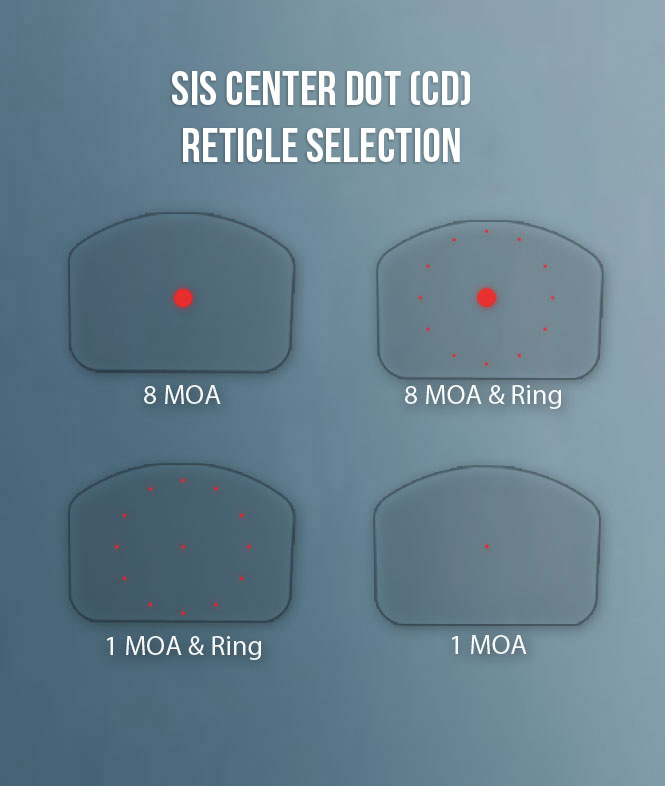 Auto & Manual Brightness adjustment.